Homemade mask
DIY Face Mask
I know what you thinking after reading the title another person is writing about homemade face mask. But I am here to tell you all face mask are not good for your skin actually some mask are so questionable that it might do more damage to your skin than doing any good.
Realistically use recopies with simple gentle ingredients, but yes some DIY mask are really good and do wonders for your skin. It just that you need to know which mask is the safest for you and your skin type.
And this blog is about telling you the safest mask for your skin.
I have done a solid research on some easy DIY face mask recopies that address all your problems of tired skin, break outs, stressed pores etc. using simple ingredients available at home.
Home-made mask for dull skin.
This homemade mask requires only 2 ingredients but even though the procedure is small it has a powerful effect on your skin and since this one is loaded with Vitamin C and antioxidants it will help in making your skin brighter and remove all the signs of dullness from your skin with each use.
The ingredients you need for this pack are
1 Green Tea bag
1 Cup boiled Distilled water
10 Raspberries
Keep the green tea bag in a cup of boiled water and let it stay for 2-3 minutes. Now remove the bag and empty its content in a bowl. Add 10 raspberries in these leaves and mash it together to make a paste. It is ok if this paste is a little chunky. Once this mixture cools down apply it on your face and neck, you could also keep this mixture in the refrigerator for 15-20 minutes if you like a nice chilly face pack.
Keep this mask for 20-30 minutes on the face and apply it 3 times a week for best results.
Green tea is packed with antioxidants and anti inflammatory property that will soothe your skin and remove redness and irritation and when this is combined with Vitamin present in Raspberries it makes a perfect mask to brighten your skin naturally.
Mask for tired skin
After a whole day of 10-6 job and managing the house and of course all the stress related to work, whose skin will not look tired? We all have those day where our skin just looks a little off and dull and tired. This mask is perfect for those day as it leaves our skin looking calm and dewy.
Home-made mask ingredients for Tired looking skin
1 table spoon Greek yogurt
1 table spoon Oatmeal
1 tea spoon honey
Greek yogurt feels too good on the skin when slathered all over and cherry on the cake is that it is loaded with things probiotics (helps in soothing inflammations) and Lactic acid (helps in making your skin soft)
Mix it in a bowl with oatmeal and honey and apply it on your face and leave it for 20-25 minutes. Rinse it off with warm water and then feel your skin. It will feel as soft as a baby.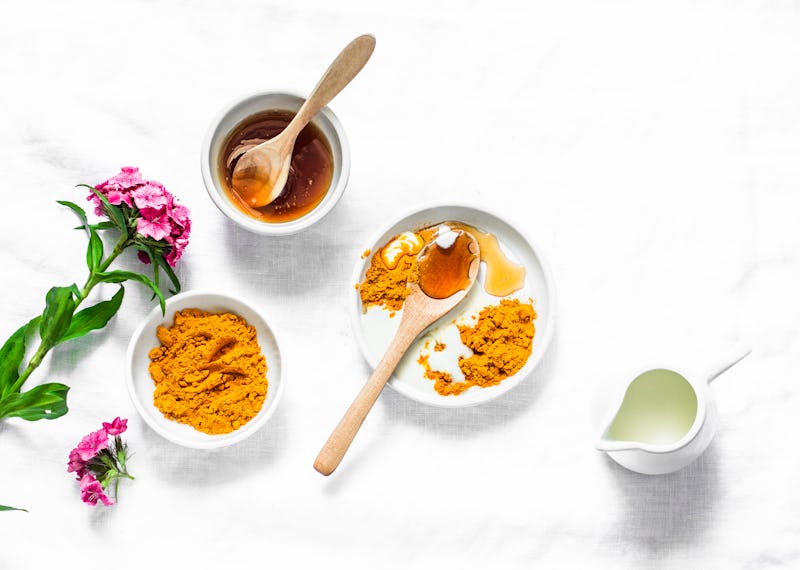 Homemade face mask for Eczema
This is a super easy homemade ask for sensitive irritated or Eczema prone skin and the best part is it is gentle enough to slather anywhere on your body, so feel free to apply it on your body parts prone to dryness.
Ingredients for this Homemade mask
1 tea spoon raw honey
1 table spoon oatmeal
½ spoon water.
Oatmeal is the star ingredient in this mask. Oatmeal has anti-inflammatory properties and antioxidants that help calm dry skin cells and when combined with honey which is ant-bacterial it becomes true skin soothing treat. Crush up the oat meal and remove it in a bowl mix honey and water to get a smooth paste and then apply it on your face and leave it for 20 minutes to get a perfect smooth skin.
Home-made mask for wrinkles and fine line.
Ingredients for this DIY mask
1 ripe banana
1 tea spoon full fat yogurt
1 tea spoon Honey
Pink of turmeric
The best way to make this mask is using the peel and the banana for the mask because most of the nutrients lie in the peel. Genteelly slice the peel with a knife and mash the banana in a bowl along with the goodness of the peel. Now mix all the other ingredients until you get a smooth paste.
Apply this on your face and keep it for 15-20 minutes. Rinse with cold water and apply a thin water based moisturizer after this mask. Your skin will look visibly softer.
Banana is a super ingredient when it comes to DIY face mask because they are spiked with potassium, Vitamin C, Vitamin – A and vitamin b-6 as well.
This is great for moisturizing and brightening the skin and also help in plumping up some fine lines. Also when banana is combine with honey which is anti-inflammatory and yogurt which soothes your skin and turmeric which is anti bacterial and brighten the skin, this becomes a pretty powerful recipe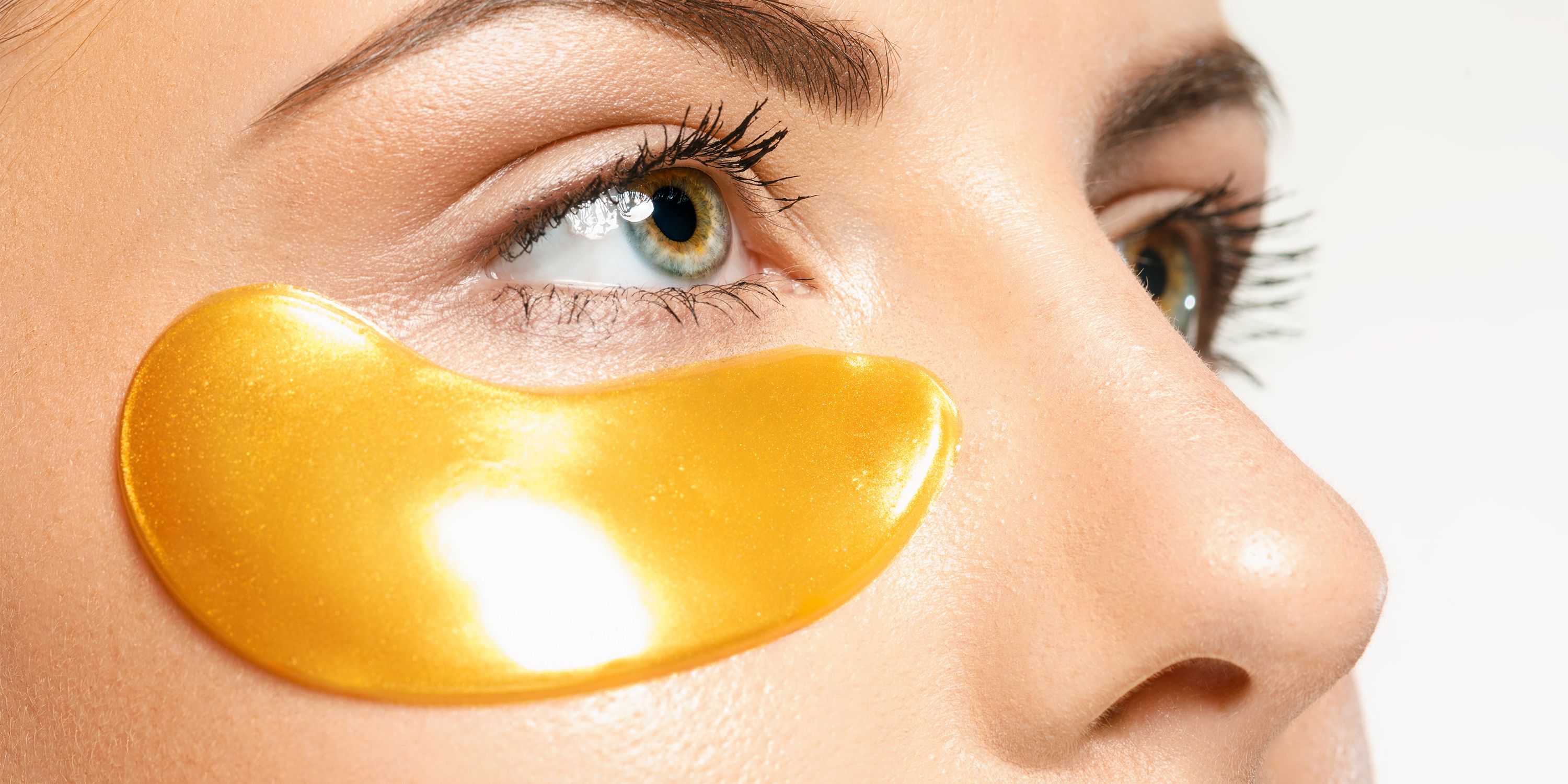 Under eye mask for dark circle
This face mask is going to treat puffy tired looking eyes.
Ingredients for this home-made mask
½ teaspoon ground coffee
1-2 teaspoon raw honey
½ tea spoon dried orange peel powder (You can keep some sun dried orange peel at home and freshly grind a few when needed.)
Mix all the ingredients in a small bowl until you get a nice thin semi-liquid paste. You can apply this mixture all over your face or just under your eyes. Leave this mask on your skin for 15 minutes and you visibly see a difference in your skin with under eye looking soother and your skin looking fresh.
Ground coffee is the star ingredient in this mask as caffeine has an ability to constrict the blood vessels and temporarily tighten the skin. The dried orange peel powder is packed with Vitamin-c which will brighten your skin and give you a fresh look. This is a pretty easy mask for a nice looking skin through out the day.
Have chapped Lips?? Don't worry we got you covered.
I know this is not a face mask technically, but your dry lips also need some pampering and love. Just remember this mask is not advised for easily irritable skin and should only be used once a week. Okay, I am not scaring you, but a disclaimer was necessary even though we using basic natural ingredients.
Ingredients for chapped lips mask
1 spoon organic cane sugar
1 spoon organic Honey
Yes you guys only need these two basic ingredients. The organic sugar gives this mask the granular texture which makes it's simpler to exfoliate the dead skin and honey helps in retaining moisture and is anti-inflammatory and anti-bacterial as well.
Mix it and apply it on your lips keep it for 3-4 minutes and then gently scrub it off. Make sure you do not keep this on your lips for more than 5 minutes and after the whole process do not forget to apply a lip balm.
Face mask for blackheads
Who amongst us has not had blackhead problems, this face mask uses natural ingredients to get rid of those dirty black heads.
Ingredients
2 spoon unflavored gelatin
2 spoon water
2 spoon activate charcoal powder.
Mix all the ingredients together until you get a thick paste. Now apply it on your nose and T-zone. Let it dry and then peel it off. This strip is relatively gentle than all those purchased one. Store bought strips and cause irritation which will eventually lead to more break outs so do give this natural strip a try.
Charcoal works like a natural magnet to draw out excess oil, making it a excellent ingredient for blackhead prone areas.
Since this is a peel off mask do not use t on sensitive areas and only use it on your T-zone.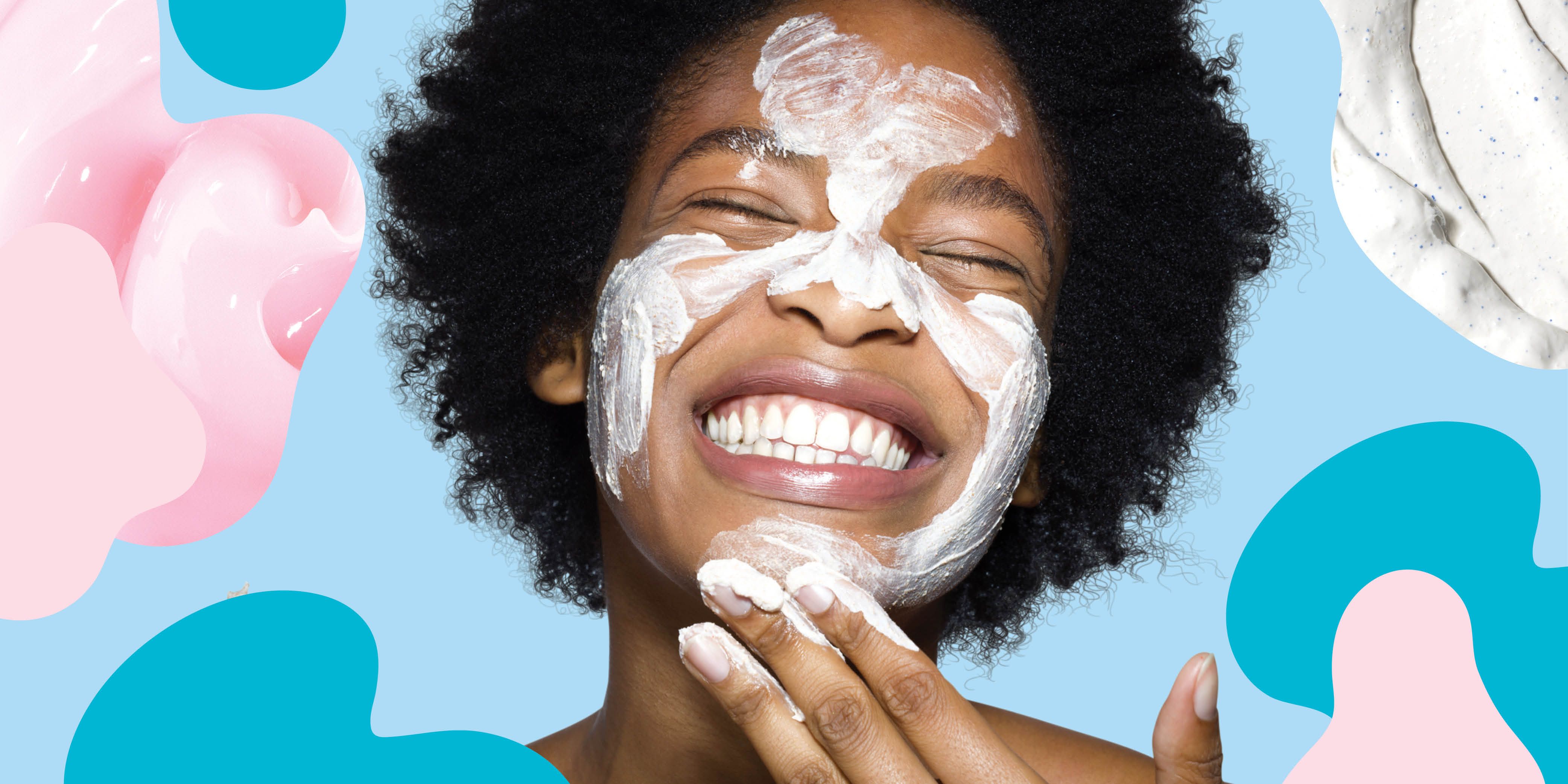 Face mask for acne
Ingredients
1 table spoon natural aloe vera pulp
1-2 drops of tea tree oil
Tea tree oil is natural anti bacterial and acne fighter but you cannot use it directly on your skin as it becomes too harsh. Even if you plan to use it as a spot treatment and only apply it on your acne spots, it might still burn your skin, if it is not diluted with enough water. But when mixed with aloe vera which has calming property to negate the potentially irritating effect of the Tea Tree oil. When these two ingredients are mixed together and applied on the skin together it has a calming effect on broken out skin.
Apply it on clean and dry skin for 10-15 minutes then rinse it off. Make sure to moisturize it afterwards.
Homemade face mask for dry skin
If you have dry skin you might know all the majority of dry skin remedies involved using heavy oils that can very easily clog your pores and can be the root cause for acne. This is the reason why I am all in for this Avocado and honey mask.
Avocado are full of fatty acids which helps moisturize dry skin and is also used to treat acne and inflammatory skin conditions without irritating your skin or making it dry.
Ingredients:
Half avocado
1 tablespoon honey
Mash the avocado and mix both the ingredients well and slather all over your face and hands if you like. Leave it on for 20 -30 -40 minutes and rinse it off with cold water.
You will be surprised to see the magic of avocado on your skin….
Homemade face mask for dark spot.
This mask is for people who deal with acne scars and acne pigmentation. Apply turmeric on your face on a daily basis. This will help reduce the redness and inflammation on the skin. Also turmeric is anti bacterial so it will help reduce the acne as well. Turmeric is know to brighten the discoloration of your skin as well.
Ingredients needed
1 tea spoon turmeric
1 tea spoon plan yogurt
1 tea spoon aloe vera pulp.
Mix all the ingredients together and apply it on your face. This mask will help you in reducing the acne scars over a long period of time. It will also make your skin smooth and soft. Apply it on your face and leave it on for 20 – 30 minutes. Rinse it off with cold water and then apply ice on your face. Due to constant use of turmeric you might feel your skin has started looking yellow but that is just the residue of turmeric which stays on your skin, which in my opinion is not that bad as it is healing your skin all day.
This is a brilliant mask for acne scars.
Hope these DIY mask help you and make your skin shine brighter every day.  Let me know in the comments.